1 Dead, 1 Injured in Fiery 3-Car Crash in Camarillo
Posted by Motorcycle Lawyer Pro | Filed under: Motorcycle Maintenance, Wrongful Death
August 23, 2019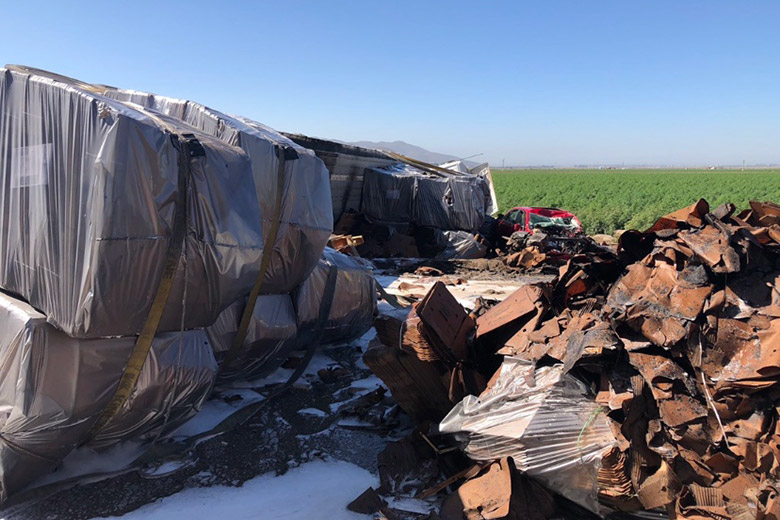 Camarillo, CA (August 21, 2019)- The Ventura County Fire Department is reporting a fatal collision in Camarillo that has left 1 dead and another hospitalized Wednesday morning, August 21st. The California Highway Patrol was summoned to respond to a report of a 3-vehicle fiery collision involving a motorcycle, big rig truck and a sedan sometime around 7:45 A.M. Officers and fire fighters responded to the scene near on Pleasant Valley Road south of Las Posas Street were they found the wreckage along with people trapped inside a burning vehicle.
The big rig truck had been carrying a heavy load of card board causing the truck to erupt in flames. 1 person was extricated form the burning big rig while another was rescued from the sedan. The motorcyclist was pronounced dead upon arrival of authorities; seemingly dying from the crash. Fire fighters were able to extinguish the blaze. 1 person was transported to a nearby hospital where they were treated for moderate injuries and are expected to survive. Another person, who was not transported to a hospital, received medical attention for minor injuries sustained during the collision. Pleasant Valley Road has been closed from Las Posas to East Fifth Street as crews mop up after the car and investigate the deadly collision. No additional information was immediately released.
---
---
Hire a Motorcycle Accident Attorney in Camarillo
If you or a loved one has been injured in a motorcycle accident, bike or scooter collision, Motorcycle Lawyer Pros strongly encourages you to call our motorcycle accident attorneys at 1.855.869.4777 for a free consultation. Our highly skilled and experienced attorneys will provide you with the best legal representation and guidance that you need. Our offices are conveniently located throughout California, Nevada and associate counsel in Arizona and we conduct regular travels in the region to meet with clients.