4 Killed in Wrong-Way Crash on 210 Fwy in Lake View Terrace
Posted by Motorcycle Lawyer Pro | Filed under: Car Accidents
December 19, 2017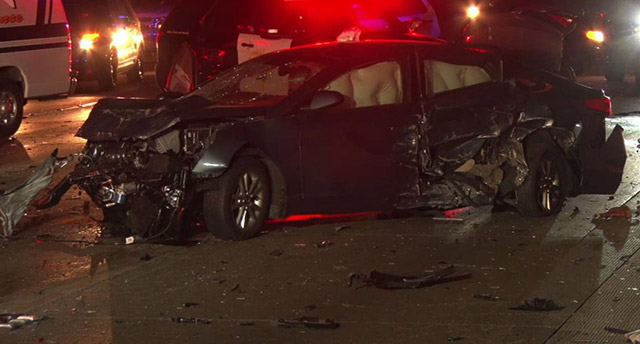 Los Angeles Police Department is investigating a wrong-way crash that left 4 people dead following a head-on collision on the 210 Freeway in the Lake View Terrace area in the San Fernando Valley early Sunday morning, Dec. 17th. The fatal collision occurred about 1:45 a.m. after California Highway Patrol dispatchers received calls of a wrong-way driver in the eastbound lanes of the Foothill (210) Freeway in Lake View Terrace After CHP units had responded in search of the wrong-way driver, they started receiving reports of the collision at about 1:52 a.m. stating that the wrong-way driver collided head-on into another vehicle near Wheatland Avenue on the 210 Freeway. A 30-year old Chatsworth man, whom authorities believe was driving the wrong-way vehicle, a 2011 Chevy Impala, was pronounced dead at the scene by first responders.
2 females passengers in the other vehicle involved, a 2015 Toyota Corolla, were pronounced dead at the scene. Their ages and city of residence, 50-years old and 30-years old of Baldwin Park, is the only information released by authorities. A 60-year old woman also from Baldwin Park, who was identified as the driver of the Toyota Corolla, was rushed by ambulance to Providence Holy Cross Medical Center in Mission Hills in critical condition. She later succumbed to her injuries and was pronounced dead by medical staff. Each of the women in the Corolla had been wearing her seat belt, while the driver of the Impala had not been, authorities said.
Officers said they do everything they can to prevent these tragedies. CHP Officer Craig Mogi described how he felt when he first received reports of the wrong-way driver, "Your heart drops because wrong-way drivers never end well," Mogi said. "So everyone just goes as fast as they can to get on scene to try and stop something like this from happening. Unfortunately, today we didn't make it." It was not immediately known whether drugs or alcohol played a role in the quadruple-fatality collision. A Sig-Alert was issued for all lanes of the eastbound 210 Freeway east of Wheatland Avenue, according to the CHP. All traffic lanes were open by 7:40 a.m.
If you or a loved one has been injured in a motorcycle accident, bike or scooter collision, Motorcycle Lawyer Pros strongly encourages you to call our motorcycle accident attorneys at 1.855.869.4777 for a free consultation. Our highly skilled and experienced attorneys will provide you with the best legal representation and guidance that you need. Our offices are conveniently located throughout California and we conduct regular travels in the region to meet with clients.