Motorcycle Officer injured in Crash in Bell Gardens
Posted by Motorcycle Lawyer Pro | Filed under: Motorcycle Accident
November 15, 2017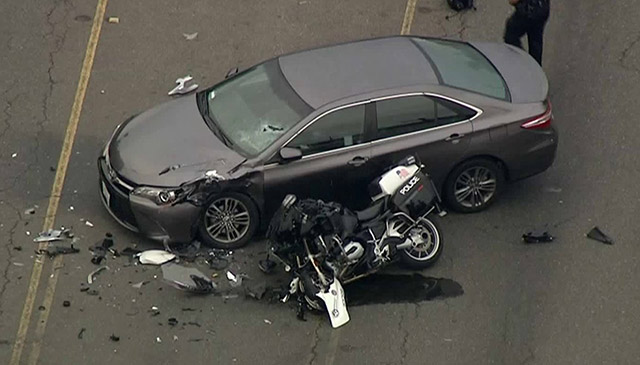 A Bell Gardens officer has been hospitalized in unknown condition after he was involved in a 2-vehicle collision in Montebello Friday morning, Nov. 10th. The incident occurred when paramedics were summoned to respond to an officer-involved collision between a motorcycle officer and a Toyota Corolla just after 7 a.m. to the area of Greenwood Avenue and Oakwood Street in Montebello. The officer was traveling southbound on Greenwood Avenue when the driver of the Toyota Corolla pulled out of an alley and crossed lanes in front of the officer. The officer struck the Toyota on the driver's side, was ejected over the front of the vehicle and landed on the street.
Bell Gardens police officials say the officer was on his way to work when the crash happened. Officials said that there were no skid marks on the road and no indication that the officer slammed on his brakes or saw the car coming. The officer was conscious and talking after the collision. Rescue personnel were seen treating the downed officer before placing him in an ambulance and rushing him to a nearby hospital. The officer's condition was not immediately known and Bell Gardens police will not release the officer's name or the extent of his injuries.
While most people in the area didn't see the collision, residents on Greenwood Avenue said they heard it all the same. "It was like a boom! Like things breaking and shattering. It was very disturbing," said Kimberly Garcia a resident of the neighborhood.
Residents said accidents such as this happen all the time in the area. "Actually, my neighbor got into an accident about a month ago, two months ago. The same thing. Fortunately, there was nothing like this," Karina Hernandez said.
"I have kids, I have two kids. They're small. They play outside. There are kids across the street. Everywhere around here in the neighborhood. Something needs to happen so none of this happens again," Hernandez said.
If you or a loved one has been injured in a motorcycle accident, bike or scooter collision, Motorcycle Lawyer Pros strongly encourages you to call our motorcycle accident attorneys at 1.855.869.4777 for a free consultation. Our highly skilled and experienced attorneys will provide you with the best legal representation and guidance that you need. Our offices are conveniently located throughout California and we conduct regular travels in the region to meet with clients.