Redding Bicycle Accident Leaves Rider With Major Injuries
Posted by Robert Koenig | Filed under: Bicycle Accident
October 13, 2023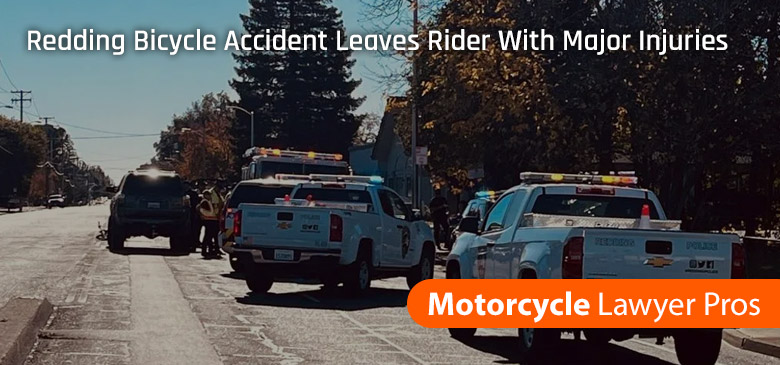 Bicyclist Suffers Major Injuries after Hit by Pickup Truck in Redding
Redding, CA (October 10, 2023) – A disturbing bicycle accident occurred on Saturday afternoon, October 7, on Highway 299 in Redding, resulting in one person sustaining serious injuries.
1 Seriously Injured in Bicycle Accident on Highway 299 at Iron Mountain Road
The incident transpired around 12:45 p.m. at the intersection of Iron Mountain Road. According to the California Highway Patrol (CHP), the bicyclist was traveling eastbound on the highway and attempting a left turn onto Iron Mountain Road when a pickup truck, navigating Iron Mountain Road, collided with the cyclist.
The impact led to the bicyclist suffering significant injuries, prompting emergency responders to transport the injured individual to Mercy Medical Center. As of now, the condition of the bicyclist remains unknown.
Thankfully, the driver of the pickup truck emerged unscathed from the incident.
---
Location Where A Bicycle Rider Sustained Major Injuries On Iron Mountain Road
---
Hire an Accident Attorney Near Redding, CA
If you or a loved one has been injured in an auto collision, Accident Lawyer strongly encourages you to call our Redding car accident lawyers. Your experienced Car Accident Lawyer will provide you with the best legal representation and guidance that you need. Our offices are conveniently located throughout California and we conduct regular travels in the region to meet with clients. Contact Car Accident Lawyer today.
Recent Bicycle Accident News In California
Huntington Beach Hit-and-Run Bicycle Accident Leaves 1 Dead and Another Injured
Moreno Valley Bicyclist Dies after Fatal Accident With Kia Optima
3 Young Bicyclists Hurt in Hit-and-Run Crash on Planz Road near Benton Street in Bakersfield
Legal Expert, Robert Koenig, has been practicing law for over 30 years. His desire to help more people in their time of need has caused him to expand across three states (California, Nevada, and Colorado) to bring his talent to as many people as possible. During which time he has collected OVER $150,000,000 in personal injury and car accident claims. Robert has been a ruthless fighter, going after insurance companies to get his clients the highest settlement available.
Education
Pepperdine University School of Law
JD – Juris Doctor
1984
University of California – Los Angeles
BA – Bachelor of Arts
1980