Woman on Scooter Killed in Crash in East Valley
Posted by Motorcycle Lawyer Pro | Filed under: Scooter Accident, Wrongful Death
December 27, 2017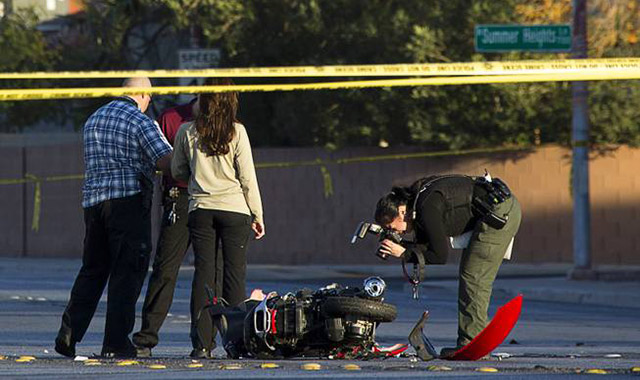 A 62-year old woman driving a motorized scooter was struck and killed by a teenage driver who ran a red light in the far East Valley of Las Vegas Tuesday afternoon. The fatal collision occurred around 12:39 p.m. at the intersection of East Bonanza Road and North Linn Lane just south of Eldorado High School in the northeast part of Las Vegas. According to Las Vegas Metropolitan Police Department, the 62-year old woman was crossing the intersection on a green light when a Nissan Sentra driven by a 17-year old boy, who was heading westbound on Bonanza Road, ran a red light and struck the woman in her scooter causing her to hit the pavement. First responders arrived on scene and transported the woman by ambulance to University Medical Center Trauma Center where the woman succumbed to her injuries and was pronounced dead by medical staff a short time later.
The 17-year-old driver of the 2016 Nissan Sentra involved in the crash was not injured and authorities say he showed no signs of impairment. An 11-year-old boy was a passenger riding in the Nissan with the teen and suffered a minor injury. Officers say that the teen driver remained on scene after the collision and cooperated with authorities.
Melanie Baeza identified the woman as her roommate, Patty Spaulding. According to Baeza, Spaulding left home to go to the library and when Spaulding didn't come home from the library Tuesday afternoon, Baeza knew something was wrong.
"She's my best friend. It's just really hard to take," said Baeza. "She wasn't like a little 60-year-old lady she was a spitfire on a scooter. Sometimes I'd say, 'take my car, just take my car. You can't carry all the groceries. Take my car.' She would say, 'Oh I'm fine, I'm fine,'" said Baeza. The crash occurred just a half mile from Baeza and Spaulding's home. "When I saw the red scooter, I knew it was her and I lost it," she explained.
Police reminded drivers of the importance of stopping at red lights and cautious driving, especially in areas with residential walls that can block views of oncoming traffic. LVMPD Sgt. Robert Stauffer's advice for other drivers across the Las Vegas Valley was simple, "It's definitely preventable. You have a whole lot of time when that light turns yellow to red, to slow down. Just have a little bit of patience." This accident was the 133rd traffic-related fatality in Las Vegas Metropolitan Police Department's jurisdiction since the beginning of 2017.
She left home to go to the library and never came back. That's the memory a local woman is stuck with after her best friend was killed while riding a scooter. The crash happened in the far East Valley during the noon hour Tuesday.
If you or a loved one has been injured in a motorcycle accident, bike or scooter collision, Motorcycle Lawyer Pros strongly encourages you to call our motorcycle accident attorneys at 1.855.869.4777 for a free consultation. Our highly skilled and experienced attorneys will provide you with the best legal representation and guidance that you need. Our offices are conveniently located throughout California and we conduct regular travels in the region to meet with clients.