City Offer's $25,000 for Public's Help in Finding 2 Hit-and-Run Suspects in Long Beach
Posted by Motorcycle Lawyer Pro | Filed under: Bicycle Accident
March 22, 2018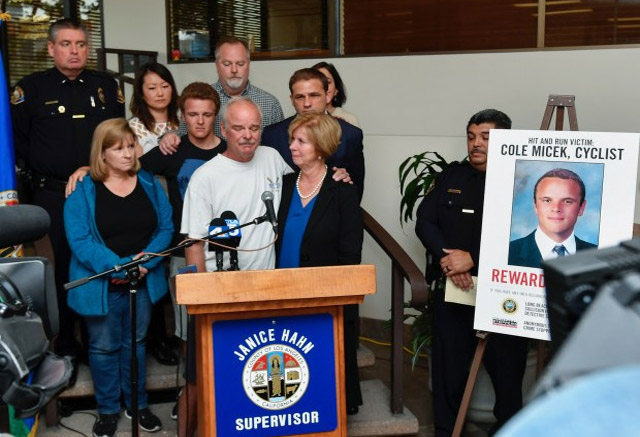 Los Angeles County Supervisor Janice Hahn introduced a motion Tuesday morning to offer a $25,000 reward for any information that would lead to the arrest and conviction of 2 suspected hit-and-run drivers who fled the scene after 1 driver struck and killed a 24-year old bicyclist in Long Beach. The announcement was made after the case, which is nearing its 3rd week, has produced no suspects or witnesses. The victim was identified as 24-year old Cole Micek of San Pedro.
Long Beach Police department said in a press release that the incident occurred in the early hours of March 3rd around 3:00 a.m. As Cole Micek was riding his bicycle in the northbound number 2 lane of the Terminal Island Freeway (CA-103) when he was struck at Pier A Way by the 1st vehicle, a white 2015 or 2017 Toyota Camry that is likely to be missing between 6-12 inches of fender from the passenger's side. Micek was then struck by a 2nd vehicle a late 1990s Honda Accord with a distinctive darker hood and sunroof with a passenger-side mirror that was broken off and a dark strip along the passenger's mid-door section. Both vehicles failed to stop and render aid or call to report the incident but instead sped off and fled the scene. Cole Micek was pronounced dead at the scene.
The Long Beach police department spokesperson stated during a public hearing when asked a question about the reasoning for Micek riding his bike on a Freeway that, "The term freeway used to describe Terminal Island Freeway may be a misleading. In the area of the Port of Long Beach the distinction between roads, highways and freeways is less than clear. You may find yourself on what appeared to be a local road that suddenly turns into a freeway or you may find that all the roads that lead into the port are highway like with freeway style interchanges. We believe Mr. Micek who worked near the docks as a longshoreman may have been on his way home after a night shift."
Micek, a native of San Pedro, was a beloved member of the community, Supervisor Hahn said. He played Little League at East View and attended the Port of Los Angeles High School where he was a student in a class taught by the supervisor's son. "Cole was taken from them way too soon, and although there is nothing I can do to ease that pain, the least I can do is help bring some closure," Supervisor Hahn said as she formally announced the $25,000 reward to the public.
Brian Rossney, Micek's uncle, described his nephew, "Cole was a loving, energetic young man who always tried to be helpful and was protective of friends and other members of the community. Cole was more than just an individual. He was somebody's brother, he was somebody's son, and he was somebody's friend. He was my nephew," Wells said, pleading with the drivers to "do the right thing." Anyone who recognizes the sedans or has information about the crash or the drivers involved is urged to call Long Beach Police Department Collision Investigation Detective Sirilo Garcia at (562) 570-7132. Anonymous tips can be submitted to Crime Stoppers at (800) 222-TIPS (8477).
If you or a loved one has been injured in a motorcycle accident, bike or scooter collision, Motorcycle Lawyer Pros strongly encourages you to call our motorcycle accident attorneys at 1.855.869.4777 for a free consultation. Our highly skilled and experienced attorneys will provide you with the best legal representation and guidance that you need. Our offices are conveniently located throughout California and we conduct regular travels in the region to meet with clients.
Photo by Martin Zamora