Rodrick Baker Jr. Seriously Injured in Hit-and-Run Crash on Bradbury Rd In Turlock
Posted by Robert Koenig | Filed under: Hit and Run Accident
September 29, 2023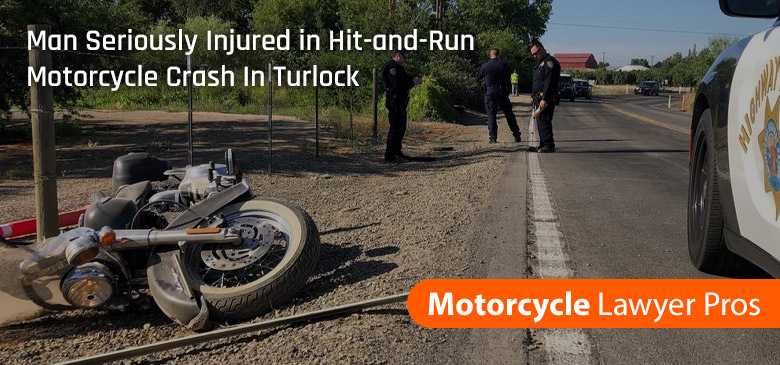 Motorcyclist Suffers Major Injuries after Struck by Hit-and-Run Driver in Turlock
Turlock, CA (September 26, 2023). A hit-and-run incident on a remote road southwest of Turlock took a harrowing turn.  Rodrick Baker Jr. suffered severe injuries in a crash that occurred on the morning of September 19. The incident unfolded around 6:30 a.m. on Bradbury Road. The discovery of Rodrick Baker Jr. in the vicinity of Commons Road sent shockwaves through the local community.
A Volkswagen Sedan, For Reasons Unknown, Turned In Front of Roderick Baker Jr.
According to the California Highway Patrol (CHP), 45-year-old Rodrick Baker Jr. was riding his 2022 Yamaha motorcycle westbound along Bradbury Road. As fate would have it, Baker, a resident of Merced, found himself behind a dark-colored Volkswagen sedan.  Both vehicles were heading towards Commons Road to their unfortunate fate.
In a chilling turn of events, the driver of the sedan veered onto the north shoulder of the road.  They then began executing a sharp U-turn directly into the path of Baker's Yamaha. The sedan's front forcefully collided with the right side of the motorcycle, ejecting Baker onto the roadway.
They airlifted Roderick Baker Jr. to Doctors Medical Center in Modesto
Rodrick Baker Jr. sustained major injuries as a result of the collision, necessitating immediate medical attention. Medical professionals swiftly airlifted him to Doctors Medical Center in Modesto, where they are diligently working to treat his injuries and aid in his recovery.
Meanwhile, the driver of the sedan chose to flee the scene, heading east on Bradbury Road, leaving behind a trail of uncertainty and concern. Law enforcement officers have pointed out that the sedan is likely to have sustained front-end damage as a result of the collision and have indicated that the driver will face a felony hit-and-run charge once identified.
As the investigation into this shocking incident continues, authorities are urging anyone with information to come forward and assist in the pursuit of justice. Those with knowledge of the case are encouraged to reach out to CHP Officer Blake Mitchell at 209-545-7440.
---
Location of Rodrick Baker Jr. Seriously Injured in Hit-and-Run Crash on Bradbury Rd In Turlock
---
Hire an Accident Attorney Near Turlock, CA
If you or a loved one has been injured in an motorcycle collision, Accident Lawyer strongly encourages you to call our Turlock car accident lawyers. Your experienced Motorcycle Accident Lawyer will provide you with the best legal representation and guidance that you need. Our offices are conveniently located throughout California and we conduct regular travels in the region to meet with clients. Contact Motorcycle Accident Lawyer today.
Recent Accident News Near Turlock, CA
Nicholas Merced Struck and Injured while Riding His Motorcycle on Camp Pendleton
Wallace DUI Motorcycle Crash Kills 1 and Seriously Injures Another
Jacob Terro Dies After Being Struck by Several Vehicles on Highway 78 In Oceanside
Legal Expert, Robert Koenig, has been practicing law for over 30 years. His desire to help more people in their time of need has caused him to expand across three states (California, Nevada, and Colorado) to bring his talent to as many people as possible. During which time he has collected OVER $150,000,000 in personal injury and car accident claims. Robert has been a ruthless fighter, going after insurance companies to get his clients the highest settlement available.
Education
Pepperdine University School of Law
JD – Juris Doctor
1984
University of California – Los Angeles
BA – Bachelor of Arts
1980