Santa Ana, CA – Motorcyclist Killed in Head-On Wrong-Way Driver on 5 Fwy
Posted by Motorcycle Lawyer Pro | Filed under: Car Accidents, Motorcycle Accident, Wrongful Death
June 28, 2018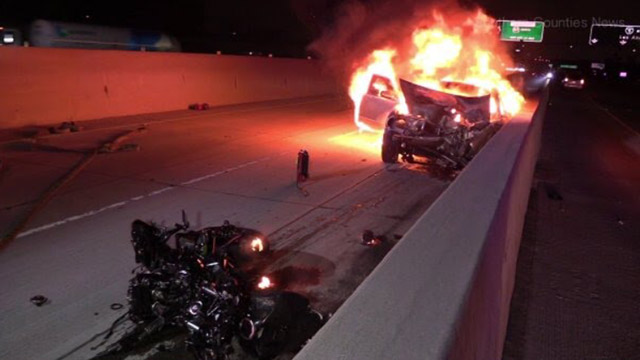 Santa Ana, CA (June 28, 2018) – Parts of the 5 Freeway in Santa Ana was temporarily closed after a motorcyclist was killed in a head-on collision with a wrong-way driver, who was also killed, early Thursday morning, June 28th. The incident occurred sometime before 4:00 a.m. when the driver of a Jaguar S-TYPE entered the 5 Freeway the wrong-way traveling southbound in the northbound lanes of traffic. The Jaguar was traveling in the carpool lanes just as a motorcyclist was traveling northbound in the carpool lane just south of the 22 Freeway. The motorcyclist collided head-on with the Jaguar ejecting the motorcyclist over the jaguar and landing 20 feet away from the wreckage.
The Jaguar erupted into flames as bystanders tried to extricate the driver of the Jaguar. Orange County Fire Authority arrived on scene and extinguished the Jaguar. Authorities pronounced the motorcyclist and the driver of the Jaguar dead at the scene soon after arriving. According to California Highway Patrol Officer Florentino Olivera, "The carpool lane is divided from the general lanes so that motorcycle had nowhere to go when he saw that vehicle coming toward him." Officer Olivera said that wrong-way drivers were a common occurrence in Southern California and overstated the need for people not to use the carpool or fast lanes if they do not have to particularly after midnight. "There's not much traffic, so there's no need to be in the carpool lane," he said. "Typically, when we get calls of a wrong-way driver, they're traveling in the carpool lane."
CHP officials said that the motorcyclist, identified only as a male, was in fact wearing a helmet at the time of the collision but that the impact from the Jaguar was so intense that there was still head trauma to the motorcyclist's skull. A Sig Alert was issued about 4:15 a.m. for the closure of all northbound lanes of the 5 Freeway. The 2 right lanes were reopened shortly after 6 a.m. and the rest of the freeway, except for the carpool lane, had reopened by 8 a.m.
---
---
Need To Find A Santa Ana Motorcycle Accident lawyer?
If you or a loved one has been injured in a motorcycle accident, bike or scooter collision, Motorcycle Lawyer Pros strongly encourages you to call our motorcycle accident attorneys at 1.855.869.4777 for a free consultation. Our highly skilled and experienced attorneys will provide you with the best legal representation and guidance that you need. Our offices are conveniently located throughout California and we conduct regular travels in the region to meet with clients.