La Jolla Motorcyclist Injured after Crash with Car
Posted by Chris Dibbern | Filed under: Motorcycle Accident
August 10, 2023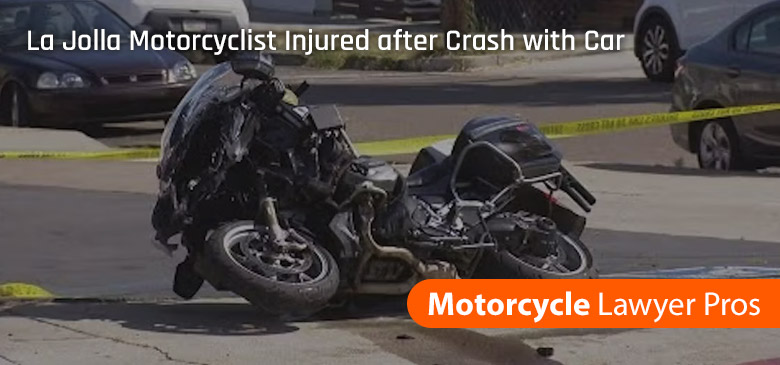 Man Seriously Injured in Motorcycle Accident on Torrey Pines Road at Little Street
La Jolla, CA (August 10, 2023) – A distressing motorcycle accident on Sunday evening, August 6, along Torrey Pines Road in La Jolla has left a 61-year-old man with severe injuries. The incident occurred at approximately 9:01 p.m., at the intersection of Torrey Pines Road and Little Street, highlighting the importance of cautious road behavior.
2016 Dodge Challenger Failed To Yield To 61 Year Old On Harley-Davidson
According to information released by the San Diego Police Department, a 19-year-old male was operating a 2016 Dodge Challenger. He was traveling southward on Little Street. Upon reaching the intersection, the young driver came to a halt at a stop sign. Subsequently, he initiated a westbound turn onto Torrey Pines Road.
Tragically, as the Dodge entered the intersection, a Harley-Davidson motorcycle, ridden by the 61-year-old victim, collided with the side front fender of the Challenger. The impact of the collision resulted in severe injuries to the motorcyclist, including multiple fractures of the right femur. Emergency responders promptly transported the injured rider to a medical facility for urgent treatment.
Remarkably, the driver of the Dodge emerged from the collision unscathed, avoiding any injuries in the unfortunate incident.
Drugs and Alcohol Did Not Play A Part In This Tragic Incident
Notably, authorities have ruled out DUI as a contributing factor to the crash. While initial findings dispel the involvement of alcohol or substance impairment, law enforcement officials are continuing their comprehensive investigation into the incident to determine further details and potential causes.
In the aftermath of this incident, local authorities and safety advocates reiterate the importance of responsible riding practices. Staying sober while riding and adhering to designated speed limits are vital components of preventing accidents and ensuring a secure journey to one's destination.
---
Location In La Jolla Where Motorcyclist Injured after Crash with Car
---
Hire an Accident Attorney Near La Jolla
If you or a loved one has been injured in an Motorcycle collision, Accident Lawyer strongly encourages you to call our La Jolla Motorcycle Accident Lawyers. Your experienced Accident Lawyer will provide you with the best legal representation and guidance that you need. Our offices are conveniently located throughout California and we conduct regular travels in the region to meet with clients. Contact Accident Lawyer today.
Recent Accident News Near La Jolla, CA
Motorcyclist Suffers Injuries after Hit-and-Run in San Diego
San Diego Motorcyclist Hits Pedestrian in Pacific Beach
San Diego Motorcycle Crash Injures Rider and Pedestrian on Palm Ave.
Legal Expert Christopher Dibbern has been working as an Attorney at Accident Attorneys' Group for over 7 years. Accident Attorneys' Group is part of the Law Firms & Legal Services industry, and located in California, United States.
Accidental Attorney's Group provides personal injury and accident related legal services for the entire state of California. The Group serves injury victims of numerous types of accidents such as car, truck, personal injuries, dog bites, slip and falls, and more.
Bachelor of Arts – Political Science and Government
California State University-Fullerton
University of San Diego School of Law
Doctor of Law
University of San Diego School of Law